Pack News
Fading Whispers Pack
After disappearance of Backster, Trance has followed in her mate's paw-steps and their scent is lost in the scent of the distant ocean air. Ambrosia has taken over the pack and is currently accepting newcomers.
Frozen Valley

Eternity's & Ocean's pups are nearly ready for their ceremonies being only 2 months old.
Crimson Hollows
Tineson has taken over this territory. He is looking for rouges and loners to come and sniff out his pack to hopefully join.
Vengeful Breeze
A kahu is needed to keep this pack alive.
Rain Pack
Vitaly is seeking some companionship, perhaps a pup will do.
Evergreen Forest
Leoric is hoping new loners will seek her out to join her pack.
They are watching over us carefully.
Loners
Loners are free and without a care in the world...well except for food and predators.
Being kicked from their pack, they may seek out a new pack. However other packs will be reluctant to accept such a wolf in their pack. Except for perhaps Crimson Hollows.
Pack Wolves → ♀ 4 & ♂ 7 = 11

Solitary Wolves → ♀ 1 & ♂ 0 = 1

You got that right! I suggest the creation of a "User Introduction Board!" Of course, it would be optional to post a topic about yourself, yadda, yadda, don't share too much personal information, etc.
I generally post a topic so people can a. get to know me better and b. understand why I sometimes get like this...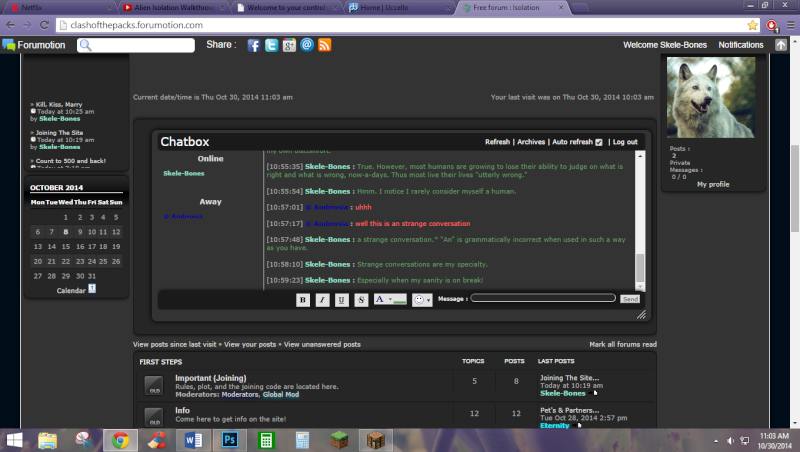 Anyway, that's my suggestion.



Posts

: 9


Kālā

: 19


Reputation

: 0


Join date

: 2014-10-30


Location

: Lydvia.



Lol, sorry 'bout that. I added every member board we had on the old site, only I added a bit more. You can go introduce yourself now.
Kahu





Posts

: 143


Kālā

: 228


Reputation

: 0


Join date

: 2014-10-16


Age

: 20


Location

: Stalking the borders of FV



Similar topics
---
Permissions in this forum:
You
cannot
reply to topics in this forum